Sample Newsletter : Weekly Fact-Checks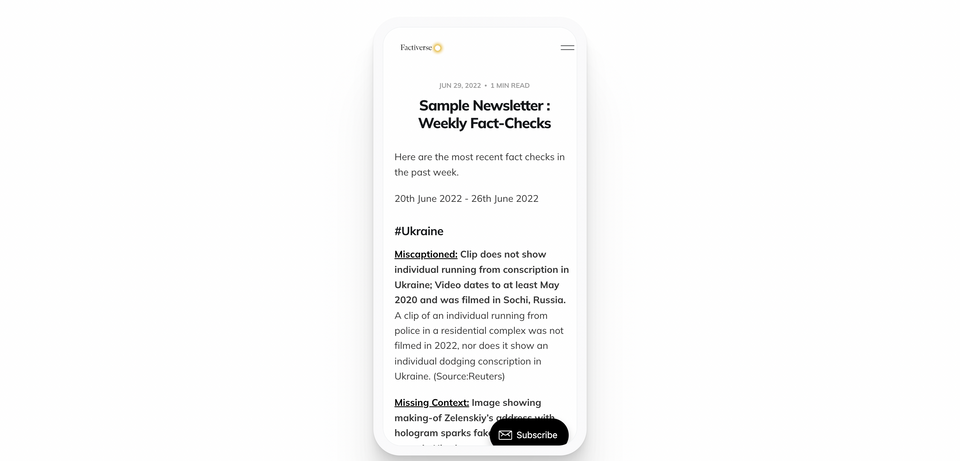 Here are the most recent fact checks in the past week.
20th June 2022 - 26th June 2022
#Ukraine
Miscaptioned: Clip does not show individual running from conscription in Ukraine; Video dates to at least May 2020 and was filmed in Sochi, Russia.
A clip of an individual running from police in a residential complex was not filmed in 2022, nor does it show an individual dodging conscription in Ukraine. (Source:Reuters)
Missing Context: Image showing making-of Zelenskiy's address with hologram sparks fake theories he is never in Ukraine.
Contrary to social media reports suggesting that the politician was absent for the entire conflict, Zelenskiy has been documented as being in Ukraine since the 2022 Russian invasion began.(Source:Reuters)
Miscaptioned: Video of vessel fighting oil rig fire predates the Ukraine war.
The video is not related to the Ukraine war in 2022. It was posted online as early as 2008 and may stem from an incident in 2004.(Source:Reuters)
#Other
True: The Supreme Court decision overturning Roe v. Wade "made the United States an outlier among developed nations in the world" on abortion rights.
The reversal of Roe v. Wade eliminated the national right to abortion access in the U.S., leaving it to states to regulate.That makes the U.S. an outlier among other developed nations.(Source:Politifact)
False: More people have died from gun violence than from COVID-19 vaccines.
Social media users are falsely claiming that more people have been killed in the past year by COVID-19 vaccines than they have been by guns.(Source:Reuters)
False: Airport disruption planned by World Economic Forum.
There is no evidence the disruption has been planned or has anything to do with the WEF.(Source:Fullfact)
Our Why
The spread of misinformation and disinformation has implications for democracies, businesses, and security. At Factiverse, we build products that create value and provide clarity in a world full of false information. We are happiest when our users get an overview and make informed decisions for a more impactful and sustainable future.

Don't hesitate to contact us if you have any feedback on how we can provide more value.
info@factiverse.no
Linkedin
Twitter